Watch Our New WEEKLY Episodes!
LIVE
Focused on how to tackle the most difficult projects in our lives.
Guest: Dor Skuler
Today, we have Dor Skuler again as our Special Guest.
A serial entrepreneur, Dor Skuler has co-founded five ventures, the most recent being Intuition Robotics, following his passion to develop artificial intelligence-driven robotics that address major social issues of the 21st century. Intuition Robotics empowers older adults to live happier, healthier and independent lives at home with an empathetic digital companion, ElliQ.
ElliQ is an empathetic care companion that empowers happy, healthy independent aging at home. It is a proactive, voice operated device that comes to life and offers older adults companionship, health and wellness support, entertainment, and more.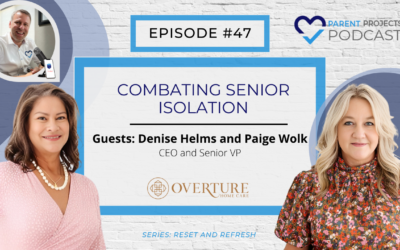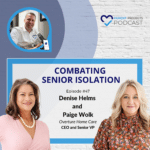 Overture Home Care knows what it feels like to be worried about a loved one and to want your family to be safe and secure while giving them as much independence as possible. We are joined today by Denise Helms and Paige Wolk.
Denise Helms, RN, BSN, CDP, has over twenty five years of experience as a Registered Nurse. Mrs. Helms began caring for the elderly as a volunteer candy striper at a nursing home while still in middle school. When she reached high school, she became a nursing assistant and worked as such through college. The next logical step was to pursue a degree in nursing.
Paige Wolk, LBSW, CDP, has over twenty years of experience in the Senior Care Industry. She began her career as a Social Worker in a skilled nursing facility working with elderly, and found her passion. Mrs. Wolk has been active in the Social Work community, earning such distinctions as Social Worker of the Year by the National Association of Social Workers and Social Worker of the Year by the Society for Social Work Leadership in Healthcare, Texas Chapter.
As our parents age, they often face a life transition due to changing health needs, finances, downsizing or end of life. As children, these transitions become our Parent Projects. The Podcast is a resource of stories, interviews and tips to help families replace the guilt and fear with love and laughter.
Most people become family caregivers with little to no knowledge or firsthand experience. Assuming responsibility for care planning, legal and financial issues, and managing age-related health conditions—all while juggling your own life—is enough to make any caregiver think "what have I gotten myself into?"
Parent ProjectS
Distribution
If you can't find us on your favorite podcasting app, drop us a quick note and let us know where you would like to stream us from.