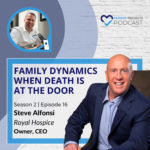 Steve Alfonsi is the franchise owner of ComForCare Home Care, along with the Founder and CEO of Vital Palliative and Royal Hospice. Steve grew up in a family where his father owned skilled nursing and rehab facilities in multiple States which gave him exposure to the Senior Care industry at an early age. In addition, Steve learned firsthand about caregiving by helping his mother who lost her battle to pancreatic cancer.
Steve also has an abundance of business leadership experience working prior as a corporate executive that he utilizes and has enabled him to build a work culture and environment that provides quality service. He holds a master's degree in economics and is an active member in many organizations, such as Home Care Association of America (HCAOA), and is also a Board Member of Arizona In-Home care Association (AZNHA).
Royal Hospice: www.royalhospice.com
Vital Palliative Care: www.VitalPalliative.com
ComForCare: www.comforcare.com/scottsdale
ComForCare Hotline: 480-998-0668
Looking for information? Parent Projects takes the stress and intimidation out of the process for families relocating an aged loved one using our educational and self-help downsizing guides found at www.parentprojects.com. Through our "Verified" Business Network, advocates can access the pre-screened professional services they need on their terms with the financial and personal safety peace-of-mind their families deserve.
Please subscribe to the podcast at:
Castos: https://parent-projects.castos.com
iTunes: https://podcasts.apple.com/us/podcast
Spotify: Parent Projects
Join @ParentProjects on Twitter
Follow us at: Facebook @ParentProjects
Instagram @parentprojects
00:00 – Intro
00:13 – Welcome to the Show
01:20 – Introduction to Steve Alfonsi
02:12 – Steve Alfonsi's Call to Action
07:32 – Skysong Tour Ad
08:43 – Preparing for the Death of a Loved One
20:45 – ComForCare Ad
21:46 – Key Conversations to Have as a Family
38:42 – Closing Remarks
39:04 – Outro