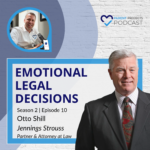 For more than 30 years, Mr. Shill has helped businesses, business owners, and individuals comply with tax and other government regulations; navigate government investigations; and build wealth through business transactions and long-term business and estate planning. He has significant experience in business transactions; federal and state tax compliance and tax controversies; compensation and employee benefits; employment regulation; and government contracting compliance and disputes.
Jennings Strouss leverages our unparalleled legal knowledge and business experience to provide individuals and businesses with expert counsel on estate planning, estate administration, and probate matters. We pride ourselves on being astute problem solvers and are only satisfied when our clients are happy. Our attorneys handle all aspects of estate planning and probate, including the implementation of sophisticated estate plans for clients, such as the drafting of traditional and complex wills, various types of revocable and irrevocable trust agreements, and family partnership agreements. They also assist in the preparation of trust documents, including living trusts, marital deduction and generation-skipping transfer tax trusts, irrevocable life insurance trusts, trusts designed for facilitating gifts to minors, and specialty trusts.
Looking for information? Parent Projects takes the stress and intimidation out of the process for families relocating an aged loved one using our educational and self-help downsizing guides found at www.parentprojects.com. Through our "Verified" Business Network, advocates can access the pre-screened professional services they need on their terms with the financial and personal safety peace-of-mind their families deserve.
Please subscribe to the podcast at: Castos: https://parent-projects.castos.com
iTunes: https://podcasts.apple.com/us/podcast
Spotify: Parent Projects
Join @ParentProjects on Twitter
Follow us at: Facebook @ParentProjects
Instagram @parentprojects
00:00 – Intro
00:10 – Introduction of Otto Shill
01:32 – Otto Shill's Experience & Perspective
14:16 – Tour of Arizona's Skysong
15:27 – When to Get an Attorney Involved
27:28 – Parent Projects Connect
28:08 – Communicating with your Family/Siblings with Privilege