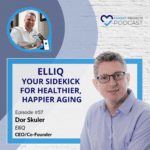 A serial entrepreneur, Dor Skuler has co-founded five ventures, the most recent being Intuition Robotics, following his passion to develop artificial intelligence-driven robotics that address major social issues of the 21st century. Having trained in Israel's elite military intelligence unit 8200, Dor made a mark on interactive broadcast technology with Zing Interactive Media (acquired by Invesco, NASDAQ: IVZ) and security software through Safend (acquired by Wave Systems Corp, NASDAQ: WAVX). Dor then joined Alcatel-Lucent (NYSE:ALU) to create and lead innovative ventures, most notably as Founder and GM of Cloudband, the world's first platform for Network Functions Virtualization (NFV), cited by Nokia as a major motive to purchasing the French-American telecoms giant. As Senior Vice President at Alcatel-Lucent, Dor was a regular speaker on the telecoms circuit, frequently cited in the media, and made the Global Telecom Business "40 under 40" list in 2009, 2011, and 2013. Dor also served as Vice President of Strategy and Global Head of Corporate Development for Alcatel-Lucent in its corporate headquarters in Paris. Dor holds an MBA and Master's of Science in Marketing from Temple University, has co-authored "Cloud Computing: Business Trends and Technologies" published by Wiley in 2016, and holds board level advisory and director roles for several telecoms, cyber security, and tech-led social impact ventures.
Website: www.elliq.com
Looking for information? Parent Projects takes the stress and intimidation out of the process for families relocating an aged loved one using our educational and self-help downsizing guides found at www.ParentProjects.com. Through our "Verified" Business Network, advocates can access the pre-screened professional services they need on their terms with the financial and personal safety peace-of-mind their families deserve.
Please subscribe to the podcast at:
Castos: https://parent-projects.castos.com
iTunes: https://podcasts.apple.com/us/podcast
Spotify: Parent Projects
Join us on your favorite social media platform as @ParentProjects
– Twitter
– Facebook
– Instagram
– YouTube
– Pinterest
Bookmarks:
00:00 – Intro
01:00 – Introduction to Dor Skuler
02:13 – What is ElliQ?
07:18 – ElliQ Relieving the Pressure
11:12 – ElliQ is Not Human
14:37 – The First Group to Live with AI
16:45 – Where to Get ElliQ
18:49 – Thanks for Joining Us
19:36 – ElliQ Ad
20:12 – Outro
Parent Projects™ Podcast is a resource of stories, interviews, and tips to help families find relief in rightsizing by replacing guilt and fear with a little love and laughter.
Contact Us With Your Comments: