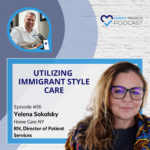 Is your family weighing Home Care vs. Nursing Home decisions and looking for some fresh perspectives on the conversation?
This week, we will be thinking outside the box with a nod to cultural influences on family dynamics in aging families. We visit with RN and CEO of New York's Galaxy Home Care, Yelena Sokolsky, whose personal and professional experience spanning 20yrs. in home care has found value in the many ways culture impacts how to tackle these conversations.
Looking for information? Parent Projects takes the stress and intimidation out of the process for families relocating an aged loved one using our educational and self-help downsizing guides found at www.ParentProjects.com. Through our "Verified" Business Network, advocates can access the pre-screened professional services they need on their terms with the financial and personal safety peace-of-mind their families deserve.
Please subscribe to the podcast at:
Castos: https://parent-projects.castos.com
iTunes: https://podcasts.apple.com/us/podcast
Spotify: Parent Projects
01:21
– Welcome to the Show
02:32
– Introduction to Yelena Sokolsky
04:20
– Yelena's Call to Action
11:10
– Immigrant Style of Care
33:29
– Galaxy Home Care Ad
Parent Projects™ Podcast is a resource of stories, interviews, and tips to help families find relief in rightsizing by replacing guilt and fear with a little love and laughter.
Contact Us With Your Comments: