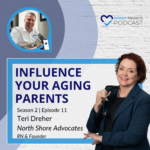 Today's discussion is with Registered Nurse and pioneer Healthcare Advocate, Teri Dreher. Together, we plan to breakdown how we can communicate with our parents, express concern, and ultimately motivate them to improve their lifestyles as they age without causing more problems, drama, or resistance.
Teri, an RN with 36 years of experience, has always been passionate about keeping the patient at the center of the nursing care model. This passion led her to form North Shore Patient Advocates, LLC in 2011. NSPA is one of the first organizations of its kind in Chicagoland.
Looking for information? Parent Projects takes the stress and intimidation out of the process for families relocating an aged loved one using our educational and self-help downsizing guides found at www.parentprojects.com. Through our "Verified" Business Network, advocates can access the pre-screened professional services they need on their terms with the financial and personal safety peace-of-mind their families deserve.
Please subscribe to the podcast at: Castos: https://parent-projects.castos.com
iTunes: https://podcasts.apple.com/us/podcast
Spotify: Parent Projects
Join @ParentProjects on Twitter
Follow us at: Facebook @ParentProjects
Instagram @parentprojects
00:00 – Intro
01:10 – Introduction To Teri Dreher
03:11 – Teri Dreher's Story
12:42 – How to Start the Conversation with their Parents
24:57 – Parent Projects Connect
26:27 – Advocacy for Seniors