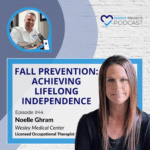 Today, our Guest is Noelle Ghram, an Occupational Therapist with 23 years of experience working with trauma patients in hospitals, homes, rehabs, and skilled nursing facilities. She is currently working at a Level 1 Acute Care Trauma Center and has a passion for educating people and families about fall prevention.
Looking for information? Parent Projects takes the stress and intimidation out of the process for families relocating an aged loved one using our educational and self-help downsizing guides found at www.ParentProjects.com. Through our "Verified" Business Network, advocates can access the pre-screened professional services they need on their terms with the financial and personal safety peace-of-mind their families deserve.
Please subscribe to the podcast at:
Castos: https://parent-projects.castos.com
iTunes: https://podcasts.apple.com/us/podcast
Spotify: Parent Projects
Join us on your favorite social media platform as @ParentProjects
– Twitter
– Facebook
– Instagram
– YouTube
– Pinterest
00:00 – Intro
01:22 – Welcome to the Show
02:57 – Introduction to Noelle Ghram
04:40 – Noelle's Call to Action
05:42 – What is Occupational Therapy
10:44 – ComForCare Ad
11:45 – Being Proactive
12:59 – What to Look for in Preventing a Fall
19:21 – Proactive on Prescriptions
25:30 – Being Realistic
28:23 – Putting a Home in Good Order
33:40 – Guides for Setting Up Your Houses
35:18 – Bathroom Prep
38:32 – Parent Projects Connect
39:02 – Occupational Therapy Assessment Checklist
46:29 – Favorite Home Modification
53:18 – Final Thoughts
58:48 – Outro
Parent Projects™ Podcast is a resource of stories, interviews, and tips to help families find relief in rightsizing by replacing guilt and fear with a little love and laughter.
Contact Us With Your Comments: