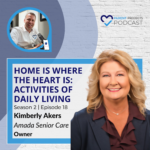 Kimberly Akers is a Certified Senior Advisor® and owner of Amada Senior Care. Amada Senior Care is Arizona's trusted provider for In-Home Care and Long-Term Care Insurance Advocacy. Amada Senior Care assists seniors in staying independent in their homes by providing compassionate caregivers to assist with activities of daily living, medication reminders, meal preparation, and light housekeeping.
Article link: https://parentprojects.com/adl/
Looking for information? Parent Projects takes the stress and intimidation out of the process for families relocating an aged loved one using our educational and self-help downsizing guides found at www.parentprojects.com. Through our "Verified" Business Network, advocates can access the pre-screened professional services they need on their terms with the financial and personal safety peace-of-mind their families deserve.
Please subscribe to the podcast at:
Castos: https://parent-projects.castos.com
iTunes: https://podcasts.apple.com/us/podcast
Spotify: Parent Projects
Join @ParentProjects on Twitter
Follow us at: Facebook @ParentProjects
Instagram @parentprojects
00:00 – Intro
01:02 – Welcome to the Show
02:20 – Introduction to Kimberly Akers
02:58 – Kimberly Akers' Call to Action
11:54 – Zoho One Ad
13:03 – Activities of Daily Living
35:14 – R.O.S.E Ad
37:10 – Uncomfortable Activities of Daily living
51:30 – Closing Thoughts
53:16 – Outro
Parent Projects™ Podcast is a resource of stories, interviews, and tips to help families find relief in rightsizing by replacing guilt and fear with a little love and laughter.
Contact Us With Your Comments: