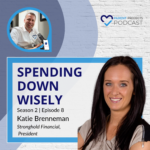 Today's Guest is Katie Brenneman. Katie Brenneman is the founder and president of Stronghold Financial. Stronghold Financial is a full-service wealth management and Medicaid planning firm driven by one focused goal – to help clients grow, protect, and transfer all they have worked so hard to achieve. They continually establish themselves as a leader in the financial services community. They do this by providing the utmost in quality of financial services and products which cater to each client's needs and interests.
Follow Stronghold financial on youTube at: https://www.youtube.com/@strongholdfi…
Looking for information? Parent Projects takes the stress and intimidation out of the process for families relocating an aged loved one using our educational and self-help downsizing guides found at www.parentprojects.com. Through our "Verified" Business Network, advocates can access the pre-screened professional services they need on their terms with the financial and personal safety peace-of-mind their families deserve.
Please subscribe to the podcast at:
   Castos: https://parent-projects.castos.com
   iTunes: https://podcasts.apple.com/us/podcast
   Spotify: Parent Projects
Join @ParentProjects on Twitter
Follow us at: Facebook @ParentProjects
Instagram @parentprojects
Timestamps:
00:00 – Intro
01:43 – Introduction to Katie Brenneman
05:49 – Ad: Parent Projects Tour
11:14 – Worries and Concerns
23:44 – Ad: Refuge Coffee Company
24:40 – FAQ about Stronghold Financial