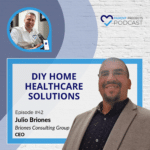 The right Home Care provides freedom to live out the final years well, but the wrong care can be traumatic and financially devastating. Understand what to look for and what to avoid. Today, we are with Julio Briones of the Briones Consulting Group. Julio is a business consultant specializing in senior care business growth with a focus on strategic implementation. He works with senior care facilities as well as Home Care/Home Health and Hospice agencies to create custom strategies to enhance their offering, streamline their recruitment, retention, operations, and client service processes.
https://www.thebrionesgroup.com/
Looking for information? Parent Projects takes the stress and intimidation out of the process for families relocating an aged loved one using our educational and self-help downsizing guides found at www.ParentProjects.com. Through our "Verified" Business Network, advocates can access the pre-screened professional services they need on their terms with the financial and personal safety peace-of-mind their families deserve.
Please subscribe to the podcast at:
Castos: https://parent-projects.castos.com
iTunes: https://podcasts.apple.com/us/podcast
Spotify: Parent Projects
Join us on your favorite social media platform as @ParentProjects
– Twitter
– Facebook
– Instagram
– YouTube
– Pinterest
00:00:00 – Intro
00:01:22 – Welcome to the Show
00:02:32 – Introduction to Julio Briones
00:03:30 – DIY Home Care
00:04:43 – Julio's Call to Action
00:10:02 – Comforcare Ad
00:11:03 – Home Care Abuse
00:13:05 – What to Keep in Mind When Looking for Agencies
00:25:00 – Different Approaches
00:31:03 – Parent Projects Connect Ad
00:31:33 – Six Difficulties in Home Care Givers
00:36:30 – Solutions to Get a Great Agency
00:45:10 – What Makes a Good Home Agency
00:58:48 – Final Thoughts
01:00:31 – Outro
Parent Projects™ Podcast is a resource of stories, interviews, and tips to help families find relief in rightsizing by replacing guilt and fear with a little love and laughter.
Contact Us With Your Comments: