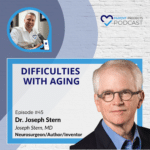 Today, we have neurosurgeon Dr. Joseph Stern with us, sharing his lessons on losing capabilities and capacity while still choosing to maintain vitality and purpose in life.
Dr. Joseph Stern's Website: www.josephsternmd.com
Looking for information? Parent Projects takes the stress and intimidation out of the process for families relocating an aged loved one using our educational and self-help downsizing guides found at www.ParentProjects.com. Through our "Verified" Business Network, advocates can access the pre-screened professional services they need on their terms with the financial and personal safety peace-of-mind their families deserve.
Please subscribe to the podcast at:
Castos: https://parent-projects.castos.com
iTunes: https://podcasts.apple.com/us/podcast
Spotify: Parent Projects
Join us on your favorite social media platform as @ParentProjects
– Twitter
– Facebook
– Instagram
– YouTube
– Pinterest
00:00 – Intro
01:22 – Welcome to the Show
02:44 – Introduction to Dr. Joseph Stern
05:47 – Dr. Stern's Call to Action
12:19 – Dr. Stern's Experience
18:04 – Palliative Care
21:57 – Practical Uses
27:47 – Tips to Help Our Loved Ones
34:45 – CRP Ad
35:56 – Teach Us to Learn Twice
39:59 – Trauma
45:11 – Having Agility
49:35 – Wrap Up
55:33 – Final Thoughts
56:38 – Outro
Parent Projects™ Podcast is a resource of stories, interviews, and tips to help families find relief in rightsizing by replacing guilt and fear with a little love and laughter.
Contact Us With Your Comments: