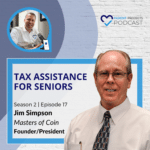 Jim started Masters of Coin to bring together the many volunteers who have helped make the SCC VITA (Volunteer Income Tax Assistance) program such a success and expand the reach to help people become better citizens through financial education. Jim's occupational experience is wide and varied, including entrepreneurial experience as the owner of a fence contracting business, corporate experience at BF Goodrich Aerospace as an international sales representative, and professional experience as a CPA at McGladrey & Pullen, CPAs. His educational background includes a Bachelor of Science in Marketing, a Bachelor of Arts in Spanish, and a Masters in Tax, all from Arizona State University. He earned a PhD in Education from Walden University.
Looking for information? Parent Projects takes the stress and intimidation out of the process for families relocating an aged loved one using our educational and self-help downsizing guides found at www.parentprojects.com. Through our "Verified" Business Network, advocates can access the pre-screened professional services they need on their terms with the financial and personal safety peace-of-mind their families deserve.
Please subscribe to the podcast at:
Castos: https://parent-projects.castos.com
iTunes: https://podcasts.apple.com/us/podcast
Spotify: Parent Projects
Join @ParentProjects on Twitter
Follow us at: Facebook @ParentProjects
Instagram @parentprojects
00:00 – Intro
00:07 – Welcome to the Show
01:46 – Introduction to Jim Simpson
08:33 – VITA's Resources
10:54 – Zoho One Ad
12:03 – Financial Resources for your Aging Parents
28:18 – Parent Projects Connect Ad
28:50 – Things to Think About Before You File
33:05 – Closing Remarks
Parent Projects™ Podcast is a resource of stories, interviews, and tips to help families find relief in rightsizing by replacing guilt and fear with a little love and laughter.
Contact Us With Your Comments: