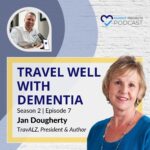 Today's Guest is Jan Dougherty Jan Dougherty, MS, RN, FAAN is a nurse leader, innovator, and noted dementia care expert. As a change agent, Jan has been advancing care for people living with Alzheimer's disease/related dementia and their family caregivers. Jan brings to her clients TravAlz innovation and expertise using dementia-friendly travel solutions. The results for the travel industry and family caregivers ensure successful, safe, and memorable travels.
TSA CARES: If your flight is within 72 hours, call TSA Cares at (855) 787-2227
Sunflower Lanyard: www.hiddendisabilitiesstore.com
Looking for information? Parent Projects takes the stress and intimidation out of the process for families relocating an aged loved one using our educational and self-help downsizing guides found at www.parentprojects.com. Through our "Verified" Business Network, advocates can access the pre-screened professional services they need on their terms with the financial and personal safety peace-of-mind their families deserve.
Please subscribe to the podcast at: Castos: https://parent-projects.castos.com
iTunes: https://podcasts.apple.com/us/podcast
Spotify: Parent Projects
Join @ParentProjects on Twitter
Follow us at: Facebook @ParentProjects
Instagram @parentprojects
00:00 – Intro
01:22 – Introduction to Jan Dougherty
09:46 – Mana House Coffee Ad
10:41 – Tips and Advice for Traveling With Adult Children
23:53 – Resources to help traveling for your loved ones.