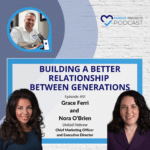 Today, we will be talking to Grace Ferri and Nora O'Brien. Grace Ferri is an ambassador for United Hebrew of New Rochelle. As an ambassador for United Hebrew's campus of comprehensive care, Grace provides essential information, tours, and one-on-one counseling to help families and their loved ones navigate the complex pathways of health care and identify the level of care that's right for them. Nora O'Brien oversees Willow Gardens, Westchester's first nonprofit assisted living residence devoted to Alzheimer's and Dementia care.
LinkedIn: www.linkedin.com/company/united-hebrew-of-new-rochelle/
Website: www.unitedhebrewgeriatric.org
Looking for information? Parent Projects takes the stress and intimidation out of the process for families relocating an aged loved one using our educational and self-help downsizing guides found at www.ParentProjects.com. Through our "Verified" Business Network, advocates can access the pre-screened professional services they need on their terms with the financial and personal safety peace-of-mind their families deserve.
Please subscribe to the podcast at:
Castos: https://parent-projects.castos.com
iTunes: https://podcasts.apple.com/us/podcast
Spotify: Parent Projects
Join us on your favorite social media platform as @ParentProjects
– Twitter
– Facebook
– Instagram
– YouTube
– Pinterest
Bookmarks:
00:00 – Intro
01:14 – Welcome to the Show
02:07 – Introduction to Grace and Nora
03:22 – Nora's Call to Action
04:05 – Grace's Call to action
05:11 – Their Backgrounds
08:30 – Socialization
11:20 – Connected to the Next Generation
11:27 – Multi-generational Connections
15:30 – United Hebrew Ad
16:02 – Creating Those Moments
20:53 – Activities
24:03 – Safety
26:52 – Rehab
30:56 – Summary
32:46 – Contact United Hebrew
33:57 – Outro
Parent Projects™ Podcast is a resource of stories, interviews, and tips to help families find relief in rightsizing by replacing guilt and fear with a little love and laughter.
Contact Us With Your Comments: