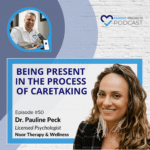 Today, we will be talking to Dr. Pauline Peck. She is a licensed Psychologist in California and New York. She has a Master's Degree in Race & Ethnic Relations/Sociology, a Master's Degree in Marriage and Family Therapy, and a Doctorate Degree in Counseling Psychology. She has a group practice located in Santa Barbara, California that provides in-person and telehealth services.
Instagram: paulinethepsychologist
Website: www.noortherapyandwellness.com
Other Relevant Links:
Boundary Setting with Your Immigrant Parents
Free Translation Guide for Communicating with Immigrant Parents
Free CULTURED Book Club (monthly curated picks on all things children of immigrants x mental health, e.g., intergenerational trauma, immigration, cultural identity development)
The Culture & Connection Transformation Program, a 1:1 month-long, high-touch educational program for the daughters of immigrants
Looking for information? Parent Projects takes the stress and intimidation out of the process for families relocating an aged loved one using our educational and self-help downsizing guides found at www.ParentProjects.com. Through our "Verified" Business Network, advocates can access the pre-screened professional services they need on their terms with the financial and personal safety peace-of-mind their families deserve.
Please subscribe to the podcast at:
Castos: https://parent-projects.castos.com
iTunes: https://podcasts.apple.com/us/podcast
Spotify: Parent Projects
Join us on your favorite social media platform as @ParentProjects
– Twitter
– Facebook
– Instagram
– YouTube
– Pinterest
Bookmarks:
00:00 – Intro
01:11 – Welcome to the Show
01:51 – Introduction to Dr. Pauline Peck
03:50 – Pauline's Call to Action
10:39 – Ad Break
10:43 – Commonality with Their Sense of Honor
17:28 – Slow Down
22:44 – Tips for Handling that First Conversation
28:11 – How to Assess Expectation
33:34 – Conversing with their Community
39:00 – Senior Technology
49:11 – Ad Break
49:17 – Wrap Up
56:14 – For More Info
59:19 – Outro
Parent Projects™ Podcast is a resource of stories, interviews, and tips to help families find relief in rightsizing by replacing guilt and fear with a little love and laughter.
Contact Us With Your Comments: