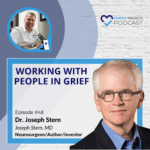 Today, we have neurosurgeon Dr. Joseph Stern with us, sharing his lessons on losing capabilities and capacity while choosing to maintain vitality and purpose in life. Dr. Joseph Stern has decades of experience as a neurosurgeon, and wrote the book "Grief Connects Us". Join us as we talk about grief and break down ways to tackle and understand grief.
Dr. Joseph Stern's Website: www.josephsternmd.com
Looking for information? Parent Projects takes the stress and intimidation out of the process for families relocating an aged loved one using our educational and self-help downsizing guides found at www.ParentProjects.com. Through our "Verified" Business Network, advocates can access the pre-screened professional services they need on their terms with the financial and personal safety peace-of-mind their families deserve.
Please subscribe to the podcast at:
Castos: https://parent-projects.castos.com
iTunes: https://podcasts.apple.com/us/podcast
Spotify: Parent Projects
Join us on your favorite social media platform as @ParentProjects
– Twitter
– Facebook
– Instagram
– YouTube
– Pinterest
Bookmarks:
00:00 – Intro
00:47 – Welcome to the Show
02:12 – Dr. Stern's Call to Action
07:30 – What is Grief?
11:39 – Reconstitution
15:31 – Physician's Approach to Grief
20:09 – Finding Hope
22:30 – The Importance of Being Connected
25:51 – How to Prepare for Grief
30:37 – Grief is Constant
33:48 – Talking About Tough Topics
42:27 – Prolonged Grief
44:26 – How Do You Want to be Remembered?
49:04 – Showing Kindness
53:40 – What Do We Need to Talk About?
55:24 – Wrap Up
57:43 – Outro
Parent Projects™ Podcast is a resource of stories, interviews, and tips to help families find relief in rightsizing by replacing guilt and fear with a little love and laughter.
Contact Us With Your Comments: