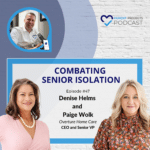 Overture Home Care knows what it feels like to be worried about a loved one and to want your family to be safe and secure while giving them as much independence as possible. We are joined today by Denise Helms and Paige Wolk.
Denise Helms, RN, BSN, CDP, has over twenty five years of experience as a Registered Nurse. Mrs. Helms began caring for the elderly as a volunteer candy striper at a nursing home while still in middle school. When she reached high school, she became a nursing assistant and worked as such through college. The next logical step was to pursue a degree in nursing.
Paige Wolk, LBSW, CDP, has over twenty years of experience in the Senior Care Industry. She began her career as a Social Worker in a skilled nursing facility working with elderly, and found her passion. Mrs. Wolk has been active in the Social Work community, earning such distinctions as Social Worker of the Year by the National Association of Social Workers and Social Worker of the Year by the Society for Social Work Leadership in Healthcare, Texas Chapter.
Website: www.overturehomecare.com
Eldercare: www.eldercare.acl.gov
Looking for information? Parent Projects takes the stress and intimidation out of the process for families relocating an aged loved one using our educational and self-help downsizing guides found at www.ParentProjects.com. Through our "Verified" Business Network, advocates can access the pre-screened professional services they need on their terms with the financial and personal safety peace-of-mind their families deserve.
Please subscribe to the podcast at:
Castos: https://parent-projects.castos.com
iTunes: https://podcasts.apple.com/us/podcast
Spotify: Parent Projects
Join us on your favorite social media platform as @ParentProjects
– Twitter
– Facebook
– Instagram
– YouTube
– Pinterest
Bookmarks:
00:00 – Intro
00:47 – Introduction to Denise & Paige
01:34 – Their Call to Action
05:04 – Isolation Research
07:55 – Statistics
10:18 – Ad
10:50 – First Signs of Isolation
15:50 – What Families Can Do
18:27 – Alternatives
24:15 – Things to Look For
30:24 – Purpose-Driven Mindset
35:42 – Technology
46:48 – Overture Home Care
50:40 – Outro
Parent Projects™ Podcast is a resource of stories, interviews, and tips to help families find relief in rightsizing by replacing guilt and fear with a little love and laughter.
Contact Us With Your Comments: