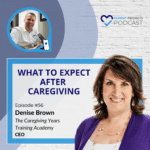 Denise began working with family caregivers in 1990 and launched one of the first online caregiving communities in 1996. She now develops and teaches leadership development and training programs for family caregivers, former family caregivers, and the professionals who support them. Through their training, individuals learn how to support family caregivers through The Six Caregiving Stages, The 17 Caregiving Systems, and The 12 Caregiving Fatigues.
Website: www.caringourway.com
Looking for information? Parent Projects takes the stress and intimidation out of the process for families relocating an aged loved one using our educational and self-help downsizing guides found at www.ParentProjects.com. Through our "Verified" Business Network, advocates can access the pre-screened professional services they need on their terms with the financial and personal safety peace-of-mind their families deserve.
Please subscribe to the podcast at:
Castos: https://parent-projects.castos.com
iTunes: https://podcasts.apple.com/us/podcast
Spotify: Parent Projects
Join us on your favorite social media platform as @ParentProjects
– Twitter
– Facebook
– Instagram
– YouTube
– Pinterest
Bookmarks:
00:00 – Intro
01:12 – Introduction to Denise Brown
02:22 – Denise's Call to Action
04:00 – What Keeps you Going?
05:55 – A Carry
08:54 – Commonalities of After Caregiving
14:11 – ComForCare Ad
15:11 – Common Experiences After Caregiving
19:54 – GIving Yourself Some Space
28:27 – Illegitimate Tasks
33:37 – Holidays After Caregiving
37:28 – Dealing with Grief
41:39 – Where You Can Learn More
43:05 – Outro
Parent Projects™ Podcast is a resource of stories, interviews, and tips to help families find relief in rightsizing by replacing guilt and fear with a little love and laughter.
Contact Us With Your Comments: