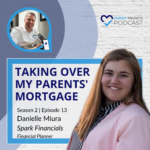 There are a lot of factors to consider in take over the mortgage. It's not just a simple as can I afford it. Today, we will talk through what some of these other factors are with Danielle Miura. Why are we keeping the house… taxes, maintenance, and lifestyle.
Danielle is the Founder of Spark Financials. Spark Financials is a fee-only, financial advisory firm located in Ripon, CA, serving people virtually across the United States. Danielle Miura founded Spark Financials to provide financial advice to family caregivers to help them organize, simplify, and empower them through every life turn.
Website: www.spark-fin.com
Looking for information? Parent Projects takes the stress and intimidation out of the process for families relocating an aged loved one using our educational and self-help downsizing guides found at www.parentprojects.com. Through our "Verified" Business Network, advocates can access the pre-screened professional services they need on their terms with the financial and personal safety peace-of-mind their families deserve.
Please subscribe to the podcast at Castos: https://parent-projects.castos.com
iTunes: https://podcasts.apple.com/us/podcast
Spotify: Parent Projects
Join @ParentProjects on Twitter
Follow us at: Facebook @ParentProjects
Instagram @parentprojects
00:00 – Intro
00:11 – Introduction to Danielle Miura
01:17 – Getting the Whole Picture
09:50 – All Things Senior Expo
10:40 – What if I Die?
22:28 – Taxes
32:37 – Proactive Communication
40:09 – Parent Projects Connect
41:39 – Wrap Up
54:04 – Outro