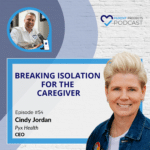 Cindy Jordan is the Co-Founder and CEO of Pyx Health. After starting her career as a D.C. police-officer-turned-political-fundraiser, Cindy took her expertise to entrepreneurship. She lead her first healthcare IT company, Medical Referral Source, to a successful acquisition in 2013. In 2017, Cindy co-founded Pyx Health along with her wife, Anne. The inspiration to found Pyx Health, a tech-enabled, human-powered solution for loneliness and social isolation, was motivated by their daughter's battle with chronic loneliness. Pyx Health was recently named to the Inc. 5000, the magazine's prestigious annual list of the fastest-growing private companies in the United States.
Website: https://www.pyxhealth.com/
Looking for information? Parent Projects takes the stress and intimidation out of the process for families relocating an aged loved one using our educational and self-help downsizing guides found at www.ParentProjects.com. Through our "Verified" Business Network, advocates can access the pre-screened professional services they need on their terms with the financial and personal safety peace-of-mind their families deserve.
Please subscribe to the podcast at:
Castos: https://parent-projects.castos.com
iTunes: https://podcasts.apple.com/us/podcast
Spotify: Parent Projects
Join us on your favorite social media platform as @ParentProjects
– Twitter
– Facebook
– Instagram
– YouTube
– Pinterest
Bookmarks:
00:00 – Intro
01:06 – Introduction to Cindy Jordan
03:16 – Cindy's Call to Action
07:02 – Isolation vs Loneliness
11:04 – Stuck in Mud
12:48 – Pyx Health Ad
13:17 – Get Unstuck
19:09 – Steps to Move in a Healthy Way
23:38 – Breaking Isolation
28:36 – Contact Pyx Health
30:37 – Outro
Parent Projects™ Podcast is a resource of stories, interviews, and tips to help families find relief in rightsizing by replacing guilt and fear with a little love and laughter.
Contact Us With Your Comments: