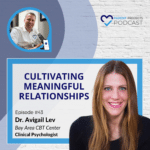 Today, our Guest is Dr. Avigail Lev, a licensed clinical psychologist based in San Francisco, California. Her areas of specialty include ACT & Schema Therapy, Couples Therapy, and Personality Disorders, and has already co-authored 3 books on those subjects. Her goal as a therapist is to provide her patients with the tools to choose the actions and behaviors that express their deepest values. "In the face of distress or other challenges, living from your values will enable you to lead a meaningful life and to be the person you want to be.
Schema Questionnaire: https://bayareacbtcenter.com/relationship-schema-quiz/
CBT Quizzes: https://cbtonline.com/quizzes
Looking for information? Parent Projects takes the stress and intimidation out of the process for families relocating an aged loved one using our educational and self-help downsizing guides found at www.ParentProjects.com. Through our "Verified" Business Network, advocates can access the pre-screened professional services they need on their terms with the financial and personal safety peace-of-mind their families deserve.
Please subscribe to the podcast at:
Castos: https://parent-projects.castos.com
iTunes: https://podcasts.apple.com/us/podcast
Spotify: Parent Projects
Join us on your favorite social media platform as @ParentProjects
– Twitter
– Facebook
– Instagram
– YouTube
– Pinterest
00:00 – Intro
01:22 – Welcome to the Show
02:51 – Introduction to Dr. Abby Lev
04:15 – Abby's Call to Action
06:29 – Schemas
08:44 – ACT Treatment Acceptance and Commitment Therapy
12:17 – ACT in a Parent Project
15:17 – ComForCare Ad
16:18 – Schema Common for Caregivers
21:28 – Obligations
25:10 – Understanding Each Person's Autonomy
29:53 – Social Need vs Obligation
31:40 – Sibling Consideration
35:37 – What Can We Do?
42:36 – Pros and Cons of Understanding our Schema
48:33 – Parent Projects Connect Ad
49:03 – Recap
52:17 – What Do I Need from this Experience
57:28 – Final Thoughts
58:48 – Outro
Parent Projects™ Podcast is a resource of stories, interviews, and tips to help families find relief in rightsizing by replacing guilt and fear with a little love and laughter.
Contact Us With Your Comments: