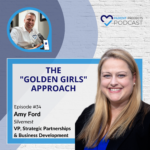 Amy Ford is the Vice President of Strategic Partnerships and Business Development for Silvernest. In her role, Amy is focused on generating a vision and roadmap for Silvernest's growth with current and future partners. 
Silvernest Link: https://www.silvernest.com/?customer_channel=parentproject&utm_source=partner&utm_medium=parentproject&utm_campaign=parentproject
Looking for information? Parent Projects takes the stress and intimidation out of the process for families relocating an aged loved one using our educational and self-help downsizing guides found at www.parentprojects.com. Through our "Verified" Business Network, advocates can access the pre-screened professional services they need on their terms with the financial and personal safety peace-of-mind their families deserve.
Please subscribe to the podcast at:
Castos: https://parent-projects.castos.com
iTunes: https://podcasts.apple.com/us/podcast
Spotify: Parent Projects
00:00 – Intro
2:25 – Intro to Amy Ford
3:18 – Amy's Call to Action
8:42 – ComforCare Ad
10:30 – Hosts and Home Seeker
12:30 – Average Duration & Negotiations
21:00 – FAQ
26:42 – SRES Ad
28:13 – How to Prepare for Home Sharing
34:38 – Tips About Discussing Home Sharing
37:08 – Final Thoughts
Parent Projects™ Podcast is a resource of stories, interviews, and tips to help families find relief in rightsizing by replacing guilt and fear with a little love and laughter.
Contact Us With Your Comments: