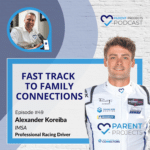 We're with AK, that's Alexander Koreiba, our race car driver for the Parent Projects brand. He is the young gun of AL AutoSports and our hero at Parent Projects. He wears the Love Check™ on his helmet and is out to win the IMSA Prototype Challenge this year. He is well on his way to win everything he possibly can in motor sports across the board. On this episode of the Parent Projects Podcast with Tony Siebers.
Alexander Koreiba's website: https://www.alexanderkoreiba.com/
Facebook: https://www.facebook.com/AlexanderKoreibaRacing/
Instagram: https://www.instagram.com/alexanderkoreiba/
Looking for information? Parent Projects takes the stress and intimidation out of the process for families relocating an aged loved one using our educational and self-help downsizing guides found at www.ParentProjects.com. Through our "Verified" Business Network, advocates can access the pre-screened professional services they need on their terms with the financial and personal safety peace-of-mind their families deserve.
Please subscribe to the podcast at:
Castos: https://parent-projects.castos.com
iTunes: https://podcasts.apple.com/us/podcast
Spotify: Parent Projects
Join us on your favorite social media platform as @ParentProjects
– Twitter
– Facebook
– Instagram
– YouTube
– Pinterest
Bookmarks:
00:00 – Intro
01:10 – Welcome Alexander
02:52 – Alexander's Call to Action
05:58 – Alex's Favorite Part About Racing
09:52 – Hot Tub Meet Up
16:21 – Staying Focused
19:00 – Being a Light to Those Around You
23:36 – Race Events Today
25:24 – Tony's Experience with Racing
31:48 – AK Racing Ad
33:15 – Business of Racing
38:22 – Engaging Different Generations
45:43 – Why Pick IMSA
52:38 – Where is IMSA Going
57:58 – How Does a Business Take Advantage of Racing
1:04:55 – Outro
Parent Projects™ Podcast is a resource of stories, interviews, and tips to help families find relief in rightsizing by replacing guilt and fear with a little love and laughter.
Contact Us With Your Comments: