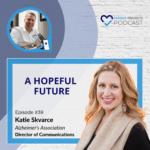 Today, we are talking with Katie Skvarce, Communications Director at the Alzheimer's Association. There is hope for the future, and Katie is going to share with us some very easy, practical lifestyle interventions that clinical trials are proving to be working in helping slow the progress on cognitive decline, as well as some great advancement in medications.
Phone Number: 800-272-3900


www.all.org/10signs
Looking for information? Parent Projects takes the stress and intimidation out of the process for families relocating an aged loved one using our educational and self-help downsizing guides found at www.ParentProjects.com. Through our "Verified" Business Network, advocates can access the pre-screened professional services they need on their terms with the financial and personal safety peace-of-mind their families deserve.
Please subscribe to the podcast at:
Castos: https://parent-projects.castos.com
iTunes: https://podcasts.apple.com/us/podcast
Spotify: Parent Projects
Join us on your favorite social media platform as @ParentProjects
– Twitter
– Facebook
– Instagram
– YouTube
– Pinterest
00:00 – Intro
00:40 – Welcome to the Show
02:01 – Introduction to Katie Skvarce
02:53 – Alzheimers vs Dementia
04:47 – Katie's Call to Action
09:34 – ComForCare Ad
10:34 – Early Signs of Alzheimers
14:38 – Men Vs Women Response to Alzheimers
22:20 – The Early Stage Planning
28:44 – Music and Alzheimers
30:52 – Alzheimer's Association
37:00 – Skysong Tour
38:12 – Risks of Alzheimers
44:04 – Making Positive changes
46:05 – Don't Coddle
48:54 – Wrap up
51:08 – Final Thoughts
Parent Projects™ Podcast is a resource of stories, interviews, and tips to help families find relief in rightsizing by replacing guilt and fear with a little love and laughter.
Contact Us With Your Comments: